Welcome to Eden Prairie Schools Community Education!
Welcome to our registration platform, hundreds of new class options are available for babies through adults! If you are new to our online registration system you will need to set up a new account to register or make payments to your account. To best serve your family, please complete a profile for every adult and child in your household. This will ensure you will receive accurate program information for your whole family. If you already have an account, browse all our programs and find the class that is right for you. We look forward to welcoming you into our programs!
Early Childhood & Preschool
Early Childhood Education is a core component of Community Education where families with young children begin their relationship with Eden Prairie Schools. Our Early Childhood and Preschool programs are here to provide you with a sound foundation for your little one's first few years of growth.

EARLY CHILDHOOD FAMILY EDUCATION (ECFE)
LITTLE EAGLES PRESCHOOL
Little Eagles Preschool provides an innovative classroom where creativity and imagination soars! Our students discover a love for learning in an interactive, stimulating, and academically rich environment. Your child will be immersed in a learning environment filled with fun, challenging, and creative activities!

- Little Eagles Preschool (half-day and full-day)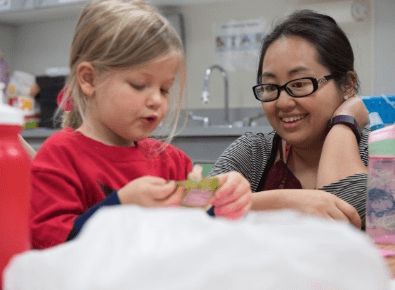 Youth Programs
Eden Prairie Community Education is dedicated to providing youth programming to enhance and grow learning opportunities for students K-12. Our youth programs ignite new interests while fostering social and emotional learning in a fun, safe and supportive environment.

EPIC YOUTH PROGRAMS
And who says learning can't be fun! Our EPIC Youth Enrichment Program keeps kids busy learning new things in an energetic environment. EPIC offers student learning opportunities for youth in kindergarten through high school, including elementary enrichment courses, ACT prep courses and Driver Education. We provide talented and expert staff to teach each of these courses. You only need to bring your interest and enthusiasm.
EAGLE ZONE SCHOOL AGE CARE
Eagle Zone will provide a fun, safe, and enriching environment for your child to have fun before and after school, and also throughout the day during the summer. The program encourages youth to get involved with various activities, meet new friends and most of all, have fun! The full-day summer program will offer coordinated activities on a daily basis, take field trips each week and incorporate special events throughout the course of the summer.

CMS MORNINGS
Eden Prairie Community Education is excited to continue CMS Mornings this fall. Offered before school from 7:00am - 9:0
0am, CMS Mornings is a program designed to provide a structured environment for students prior to the school day at Central Middle School.
The program will provide a designated space for students who are looking for quiet time, and also spend supervised time in the gym and outside for students who are interested in exercising or playing active games with friends. CMS Mornings is only offered on days school is in session.
Adult & Community Programs
Our adult and community engagement programs provide opportunities for those who may not otherwise be connected to the district. We also collaborate with a wide variety of service providers, local nonprofits, businesses, the City of Eden Prairie, and other community stakeholders to make Eden Prairie a better place to live, work, and learn.
ADULT LEARNING PROGRAM
At Eden Prairie Schools, we believe that you are never done learning. That's why our Community Education program offers hundreds of classes on topics from cooking to yoga. General topics include computer courses, dance, financial planning, fitness, hobbies, DIY home projects, music, language, personal growth, cooking, plus periodic seminars on parenting topics and more.
VOLUNTEER WITH US!
We are passionate about incorporating volunteers into our classrooms and programs. Volunteers invigorate each classroom and contribute to a nurturing and vibrant learning environment. With our extraordinary volunteers, we are able to engage and provide individualized support to more of our students. Whether you can volunteer everyday, every week, or once in a while, we would love to work with you. We have volunteer positions that allow for flexibility— some tasks can even be done from the comfort of your own home!


FACILITY USE PROGRAM
Most facilities in the district including classrooms, commons, cafeterias, fields, performing arts spaces, stadiums, and gymnasiums are available for rental through the Eden Prairie Schools Facility Use Program. Information about pricing, rules and regulations, instructions for setting up a rental account, FAQs and more are available at www.edenpr.org/facilityuse.
Existing renters with facility accounts submit requests through this online registration site (edenprairie.ce.eleyo.com). Anyone, even those without facility accounts, can browse availability of popular spaces by viewing our Facility Use Calendar.